Ationgle Water Bottle Rack
The Ationgle Heavy Duty Water Cooler Jug Holder is a premium stainless steel  storage rack that keeps your water secure and organized. Its sturdy frame is fashioned from high-quality steel that secures your 5-gallon water jugs and keeps them firmly locked into place within a dense steel frame.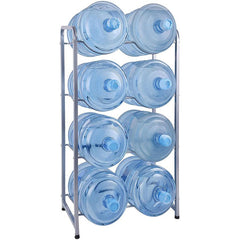 This 5-gallon water jug storage rack can be easily unboxed, set up, and ready to store your water without hassle or mess. It also comes equipped with four rubber floor grips, one on each corner, protecting your floors from scratches and preventing your water jugs from sliding off and damaging your office space or home.
The Ationgle Heavy Duty Water Cooler Jug Holder also provides you with the option to place your jugs on every tier of this water rack forwards or backward facing. Its modular water bottle rack design allows you to adjust the feet to provide the best height for storage in any room and ceiling, while also maintaining a comfortable reach for your coworkers or family.
 We know that you take your office, kitchen, or break room space seriously. Everything should be placed and oriented to maximize space without sacrificing efficiency or convenience. That's why this water gallon rack stands tall, holding up to 3 jugs in one convenient spot, saving you space and keeping your everyday access to water organized and ready.
 Our stainless steel bars have been configured to hold your 5-gallon water jugs in place. Its sleek and smooth surface across the entire steel frame means you can easily clean the entire water jug storage rack in less than 5 minutes! If you're looking for sleek, sturdy, space-saving storage for your water, you've found it. Save yourself time and money and buy the Ationgle heavy duty water cooler jug holder today!
---